Sunday, February
26
A winter race that will show your real character. Come and run in L'Île-Bizard to beat the hill and run on a unique course with your family.
Contact
Phone: Jean-Pierre Champagne (450) 424-0096 et (450) 249-4282
Email: jeacha@videotron.ca
Organized by Le club de course à pieds Les Traines-Savates de l'Île-Bizard with the Club d'athlétisme Vaudreuil-Dorion
Services
Closed and secured race courses.
mats at the starting line for the 5km and 10 km races, for accurate results;
free, downloadable race time Certificate;
due to the weather, this race offers no water stations along the course
Free photos from the Sportstats results page.
First aid services on the race site.
Kilometer markers on each race course.
Changing room on site.
Healthy post-race snack for participants.
Same day on line results on www.sportstats.ca.
Medals
Medals to the first three in each category in the 5 km & 10 km, male and female;

Visit the General information page for the age group tables.

Medals to all participants in the 1 KM race:
Bibs info
You can pick-up your bib number on race morning at the registration desk. Race kits will be organized in Alphabetical order to facilitate distribution. A reminder that if you are racing in more than one event, you MUST wear the correct BIBTAG (number) for each distance.
Race Maps
Click here for all courses maps since for 2020.
Elevation – drop: 5 KM loop (2 loops for 10 KM)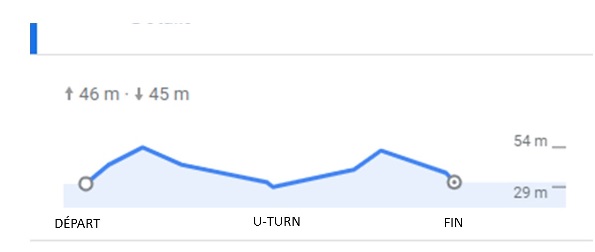 By entering any event, the runner allows the organizer to use all pictures taken during the day for their promotional needs if necessary. If runner does not wish pictures to be used, he/she must inform the organizer of this decision by sending an email at: info@circuitendurance.ca
Option 1: Register online now. Online registration will close on February 24st at Noon
Distance
Feb. 11th – Feb. 24th, Noon
Feb. 26th / Race day
1 km
15 $
20 $
2 km (19 yrs and under)
20 $
25 $
2 km (20 yrs and over)
25 $
30 $
5 km
45 $
50 $
10 km
50 $
55 $
| | |
| --- | --- |
| Race | Start times |
| 2 km (Time limit = 20 mins) | 9: 00 |
| 5 km (Time limit = 55 mins) | 9: 20 |
| 10 km (Time limit = 75 mins) | 10: 15 |
| 1 km | 11: 30 |
How to get there
On the Trans-Canada Highway (Highway 40), take Exit #52 "Boul.St-Jean north". Turn left on Blvd. Pierrefonds, right on Jacques Bizard street and cross the bridge.
Parking will be easy at the Socio-Culturel Center. On arrival at Ile Bizard, make a left on Cherrier. Then make a right at De L'église up to the Socio-Culturel Center parking lot.
Free parking is available at all time beside the Ile Bizard Cultural Center and the Vincent Lecavalier Sport Center.
Bus Route #207, from the Fairview Centre terminal, stops in front of the Centre socio-culturel.
Free parking
Course records

| Race | Category | Name | Time | Date |
| --- | --- | --- | --- | --- |
| 1km | Women | Emy Legault | 3:52.1 | 2007 |
| 1km | Men | Edouard Lapare-Morin | 3:47.9 | 2008 |
| 2km | Women | Olivia Bouffard-Nesbitt | 7:13.55 | 2006 |
| 2km | Men | Franck David | 6:03.7 | 2010 |
| 5km | Senior – Women | Leslie Gold | 18:19.99 | 2006 |
| 5km | Senior – Men | Andrew MacGuigan | 15:06.28 | 1997 |
| 5km | Masters – Women | Cindy New | 18:40.67 | 1996 |
| 5km | Masters – Men | Terry Gehl | 16:02.3 | 2012 |
| 10km | Senior – Women | Isabelle Ledroit | 35:51.84 | 1997 |
| 10km | Senior – Men | Gordon Neysmith | 31:23.60 | 1997 |
| 10km | Masters – Women | Cindy New | 37:16.57 | 1997 |
| 10km | Masters – Men | Claude Roy | 34:06.40 | 1986 |